While getting dolled up in fabulous dresses, heels and jewellery is great fun and it can feel wonderful to look so glamorous, sometimes it is just so nice to wear super comfortable clothes that don't restrict you in any way and which are easy to throw on. Don't think that the laidback look has to be sloppy though; thanks to the sportswear trend and yoga trends, these days it is easy to still look put together without having to worry about uncomfortable clothing ruining your day.
For the laidback look you should be thinking about natural fabrics like wool, cotton and linen, loose and or stretchy styles and layers to keep you just right all day. We love this style and especially if you have a hectic life where you have to either dress up or present a professional front, in your down time it is lovely to embrace a more relaxed style. Read on to find out about some beautiful and supremely comfortable pieces.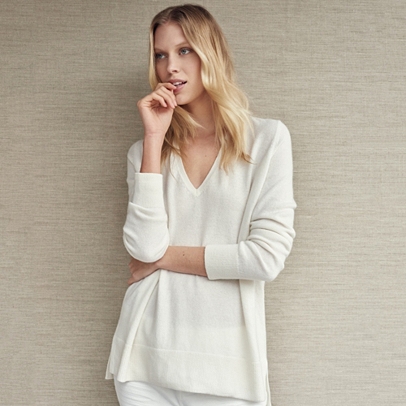 For the ultimate in luxurious comfort, a cashmere jumper has to be a necessity. Not only will the cashmere keep you warm on cooler days, but it will also keep you cool when it gets more humid, and even though a cashmere jumper is expensive, you should view it as an investment for your wardrobe that will last for many years. This elegant long-line creamy white cashmere jumper with its alluring V-neck style comes from luxury yet affordable The White Company. The loose fit will always be in style and will mean that you can really feel swathed in cashmere. The quality and luxury of this gorgeous jumper really shines through, and it can be yours for £169.
A pair of comfy sweatpants don't have to look lazy and paired with the cashmere jumper above they will help you to achieve a wonderfully relaxed look that still looks upmarket. We love these slim fit sweatpants in a dark grey charcoal colour from SoulCal which is a reasonably priced lifestyle brand available at Sports Direct. These won't drown your figure or look too baggy and will prove to be a comfy and versatile jogger that you can throw on in your downtime. The dark grey will go with pretty much any colour palette, and these cost only £15! They are also available in sizes 6 to 18.
Slider sandals are simply everywhere this summer and are a more robust choice over the cheaper flip-flop. You don't necessarily have to go down the sports slider route though, and can instead choose something that is more like a sandal and really good for your feet like this lovely pair of black buckled Birkenstocks. On your down days you can slip these on knowing that although you have a laidback look, you also look pretty fashionable too. The great thing about these is that they'll also look great with jeans, shorts and leggings making them a really versatile pick for this summer. They cost £26.95.