Finally with a bit more heat and sunshine we can free our feet from our bulky but obviously practical winter shoes and embrace one of our favourite fashion items for our feet – sandals of course. Sandals have actually been around for basically as long as humans have been wearing shoes so they have no need to prove their credentials, and nowadays there are more styles and designs than ever before which is perfect if you are a bit of shoe fan (who isn't?!)
Considering that sandals typically comprise such a small of material it is truly incredible just how different designers can make them. No matter what they look like, it is undeniable that they are really versatile and will look great with jeans, dresses, even joggers if you like! If you love looking at pretty but ostentatious shoes then this article is just for you with some fantastical creations from online and the high street.
A pair of heeled sandals look great on a long, hot balmy summer night or with a pair of sexy cut-off denim shorts if you fancy a daring daytime look or even skinny jeans, and this pair from daring high street fashion brand Topshop are simply glorious things to behold. The deep shocking pink colour is simply stunning and when coupled with the fact that these are covered in tassels and pompoms then you have a seriously fashionable pair of summer heels too. Tassels and pompoms have been everywhere this season so why not adorn your feet with them? The high textured block heel adds a lot of height (4" to be precise!) without being too uncomfortable since the block style is a pretty stable and comfortable one. Available in the pink and black as shown here or in plain black, these come in sizes 2 to 8 and cost £59.
Can you honestly say that you have never dreamed of a pair of fluffy pink shoes like you see is the movies?! Well if you are one of the ones that has, then this adorable little pair of pink and fluffy flat sandals complete with dainty ankle strap could be the sandal that you've been dreaming of for just about forever! If these aren't in Barbie pink, then they have to be incredibly close, and then add into this mix the fun fluffy toe and you have some seriously decadent but perhaps somewhat impractical shoes. The good news is though that these are a complete bargain costing just £8 from Primark.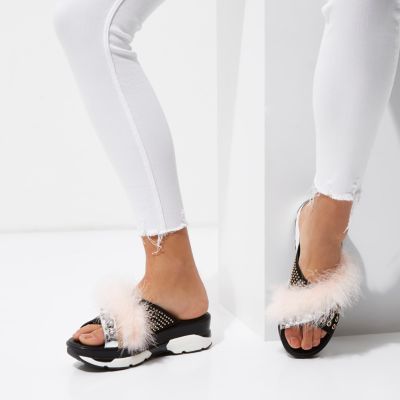 If you want to buy yourself a comfortable pair of sandals this season that aren't completely sure about what they are, then how about these slightly bonkers sandals from River Island. They are a sort of hybrid between a sports shoe and a sandal whilst featuring studs and more of that fluffy stuff that seems to be everywhere this season. The thing is, even those these sandals are more than a bit crazy (we won't lie, there is a lot going on here), they are super comfy and perfect for long days on your feet. Get them from River Island for £52.